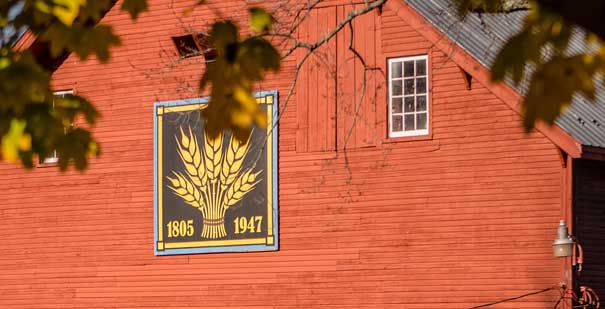 Barn Quilt Trail
The Carroll County Barn Quilt Trail is a partnership between the Carroll County Office of Tourism, the Carroll County Arts Council, Everybody's Quilt Guild and the Carroll County Department of Recreation & Parks.  The driving trail features 27 scenic barns adorned with a large colorful quilt block.  The barn quilt trail is a great way to celebrate this traditional American art form as well as experience the beautiful scenery of Carroll County.
Click on a brochure below to download the PDF
For more information, please call
410.848.1388 or 800.272.1933
Birds in Flight
Carroll County Farm Museum
500 S. Center Street, Westminster
County Fair
Carroll County Ag Center
706 Agricultural Center Drive, Westminster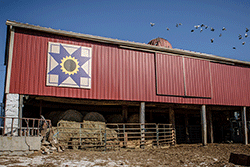 Sunflower on Star
Chapel Knolls Farm
718 Chapel Road, Westminster

Shriver Millstones
Farm Content
1221 Old New Windsor Pike, Westminster

Crazy Quilt
Carroll County Arts Council
91 W. Main Street, Westminster
Lone Star
Dell Brothers/MD-Delight Farms
1436 Sullivan Road, Westminster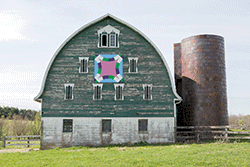 Wedding Ring
About Tyme Farm
2401 Old Taneytown Road, Westminster
Sheaf of Wheat
Mayberry Mill
3001 E. Mayberry Road, Westminster

Feeser's Country Fancy
Feeser Family Farm
2221 Crouse Mill Road, Taneytown

Sunflower
Gardener's Gourmet
3201 Uniontown Road, Westminster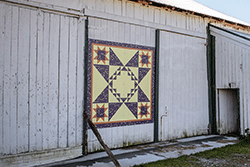 Stairway to the Stars
MD-Locust Crest, Inc.
750 Green Valley Road, New Windsor

Tulips in a Basket
Zig Zag Acres
1401 New Windsor Road, New Windsor

Carolina Lily
Ramblin' Pines
801 Hoods Mill Road, Woodbine
Rail Fence
Char-Lene Farm
2504 Gillis Road, Mt. Airy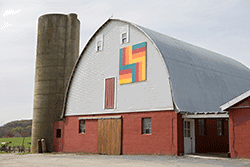 Maple Leaf
Dukholmfarm
201 Liberty Road, Sykesville
Black-Eyed Susan
Sills Farm
2526 Bollinger Mill Road, Finksburg
Corn and Beans
Nelson Farm
1835 Nelson Road, Westminster
Stars and Bars
Midway Farm
1733 Littlestown Pike, Westminster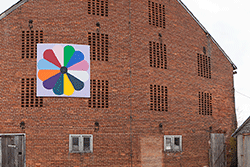 Dresden Plate
Silver Hill Farms
4320 Littlestown Pike, Westminster
Carpenter's Wheel
Deer Crossing Farm
3261 Bixler's Church Road, Westminster

Log Cabin
Thomas Tree Farm
3501 Hanover Pike, Manchester
Churn Dash
Trenton Mill Farms
405 Hanover Pike, Hampstead
Alice's Cross Stitch
Panora Acres
3009 Tracey Mill Road, Manchester
American Homestead
Local Homestead Products LLC
2425 Marston Road, New Windsor
Generation Star
1901 Old Washington Road, Westminster
Dell's Prairie Girls
2128 Bachman Valley Road, Manchester
Seven Pointed Star
Hidden Creek Farm
3139 Lineboro Road, Manchester
Please respect the private properties where the barn quilts are displayed. Viewers are also advised to take all necessary safety precautions when viewing the quilts from roadways.
Carroll County Government, the Carroll County Arts Council, the barn owners and all officers, agencies and employees of these organizations are not liable or responsible for liabilities,
losses or any other claim that may occur as a result of viewing the barn quilts or following the Carroll County Barn Quilt Trail.