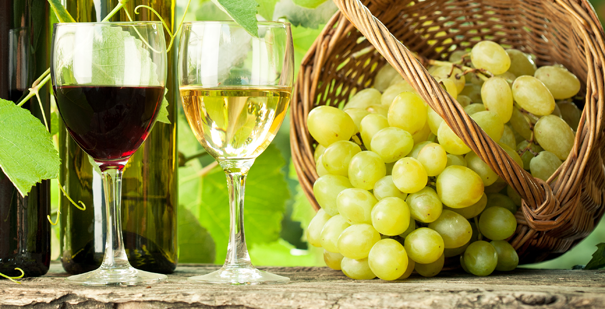 Wine Trail
Wineries
To receive a copy of our Carroll County Wine Trails brochure, complete our request form or call the Carroll County Visitor Center 1-800-272-1933.
Cygnus Wine Cellar 
www.cygnuswinecellars.com
3130 Long Lane
Manchester, MD 21102
410-374-6395
Ray Brasfield, owner.  Cygnus Wine Cellars crushed its first grapes in 1995, and became a licensed and bonded winery in 1996. We are a small family winery located in the center of Manchester, Carroll County. Manchester's history dates from the 1700's. Prior to settlement by English and German families, it was an important crossroads for Native Americans. Come, visit the Winery and try a 'taste' of our region and its history! Cygnus Wine Cellars is open for your pleasure Saturdays and Sundays, from 12 noon until 5 p.m. All other times by appointment only. Closed major holidays. Reservations are requested for groups of 10 or more. Special tasting events can be arranged for your group or business. Please call for details. Visa and Mastercard accepted.
---
Detour Winery 
detourwinery.com
7933 Forest and Stream Club Rd.
Detour, MD
410-775-0220
Detour Vineyard & Winery is located in western Carroll County overlooking the Catoctin Mountains. Come and discover the peace & serenities of the estate. Savourthe custom blended wines. Reflect on your visit & personal experience. We focus in organic fruit & dessert wines, custom blending of American & French hybrids of vinifera. Come visit us for a wine tasting and to try a glass of our Estate Reserve stock of well aged premium wines.Hours: Monday-Wednesday by appt. only. Thursday-Friday Noon to 5 p.m.; Saturday-Sunday Noon to 6 p.m. Check website for holidays hours and closings.
---
Galloping Goose Vineyards 
www.gallopinggoosevineyards.com
4326 Maple Grove Road
Hampstead, MD 21074
410-374-6596
Diane Hale, Owner.  Galloping Goose Vineyards are located in northern Carroll County, Maryland.  The rolling hills are graced with 27 acres of vinifera and hybrid vines.  The estate wines are crafted from the best fruit, and fashioned in small lots.  These wines will be presented in September, at the Maryland Wine Festival® and in October at Galloping Goose Vineyards.  Visit and enjoy the bucolic setting and the fine wines.
---
Old Westminster Winery
www.oldwestminster.com
1550 Old Westminster Road
Westminster, MD 21157
443-536-6436
Old Westminster Winery is a family establishment which provides a unique wine experience that delights the senses, pleases the palate, and soothes the soul. The estate is nestled in rolling hills just south of Historic Westminster. Patrons will enjoy the ambiance of our beautifully cultivated vineyards, distinguished tasting room and hands-on winery which produces wines of exceptional quality. Old Westminster is easily accessible from Annapolis, Baltimore, Washington DC, Gettysburg and Northern Virginia.
---
Serpent Ridge Vineyard 
www.serpentridge.com
2962 Nicodemus Road
Westminster, MD 21157
410-848-6511
Serpent Ridge specializes in small lots of handmade wine from grapes grown in our vineyard, select Maryland vineyards, and other carefully chosen sites.  Serpent Ridge Vineyard will be attending up to 6 wine festivals throughout the year in Maryland.  Come and see us there or make any day a special event by having your own personal or group tasting. You can also visit us on Wednesday, Thursday & Friday, Noon to 5 pm. Saturday & Sunday, 10:30 am to 6 pm.