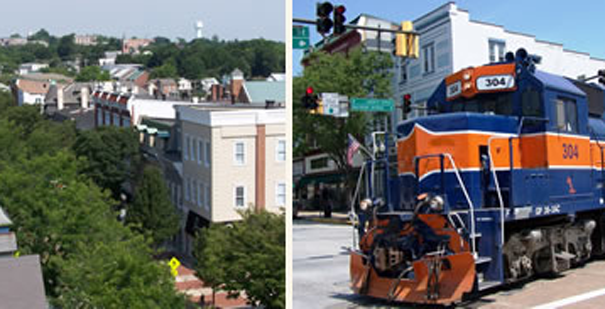 Walking Tours
Walking Tours
Many of our small towns offer informative walking tours based on architectural building style while also providing some historic information about the site.  Contact the Carroll County Visitor Center at 1-800-272-1933 or Email us at cctourism@ccg.carr.org.
A Carroll County Gem, Uniontown 
Visit 18 sites in this historic, quaint village…a townscape virtually unchanged from the turn-of-the-century. (approx. 1 hour)
---
Corbit's Charge, Westminster 
www.pccwrt.org
A walking tour tracing the Civil War skirmish between General J.E.B. Stuart and a small unit of the Delaware cavalry. This encounter slowed Stuart's march to Gettysburg delaying his report to General Robert E. Lee about the major Union troop movements. (approx. 40 minutes)
---
Courthouse Square, Westminster 
Visit the exteriors of 10 sites including the historic jail, court house and church.(approx. 40 minutes)
---
Ghost Walk 
A "spirited" self-guided walking tour of Westminster. Enjoy a light-hearted look at ghosts and goblins while viewing many architecturally interesting buildings and sites. This tour is especially fun if taken at dusk. (approx. 1 hour)
---
Taneytown: A self-guided walking tour 
In 1744 John Diggs gave a 60-acre tract to his son Edward & son-in-law Raphael Taney.  After "growing" the tract to include 7,900 acres, Taney laid out lots and named the future town "Taneytown."  The town center formed a crossroads from Baltimore thru Westminster to Taneytown.  Well-to-do merchants and craftsmen built houses that still stand today.  This tour will introduce you to some history of the previous owners and the architectural styles of several eras.
---
Union Bridge Walking Tour 
Growth in this quaint town was fueled by the arrival of the Western Maryland Railroad in 1861.  William and Ann Farquhar settled here in 1735 when William's father granted him 200 acres.  Many of the settlers were Quakers.  William's grandson named the town "Union Bridge" when local area citizens banded together to build a bridge over a local swamp.  The National Park Service has recognized Union Bridge for its wealth of historic buildings.  Many of the buildings are listed on the National Register of Historic Places.
---
Westward Expansion, Westminster 
Visit the exteriors of 31 sites. Stroll along Main Street while visiting many businesses with 19th Century architecture. View private residences built by affluent Carroll County businessmen during the 1800's. (approx. 1 hour)