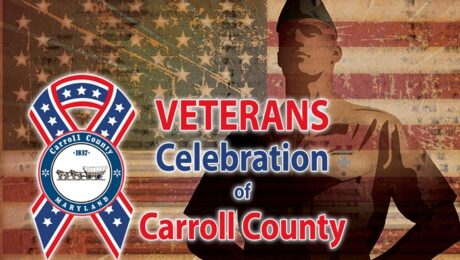 May 7th from noon to 4 p.m. the Carroll County Farm Museum will be hosting a Veterans Celebration.
Free Admission: The event has free admission and free parking for everyone. Reminder: Carroll County Farm Museum is a LARGE, OUTDOOR venue (mainly grass), please dress appropriately for the weather.
Who Should Come: Everyone! This event celebrates Veterans, Military and their families, but everyone is invited to join in the festivities, whether you served or not. Join us to enjoy the day and thank a Veteran! Free admission and parking for everyone!
Activities for All:
A variety of food vendors
Musical Entertainment: Six String Soldiers & The Reagan Years
Military display in the museum
Artisans to explore
Children's activities including:
Scavenger Hunt
Playground
Children's Activity Book
Balloon Artist
Face Painting ($)
Food: Regional food trucks and concessions are onsite to provide food, beverages and desserts. Please stop by the food vendors and browse their menus. You are welcome to bring food to the event; coolers will be searched and glass containers and outside alcohol are not permitted.
Food Trucks/Vendors*: TBA
Beer Garden: There will be a beer garden on site during the event. Visitors must have a valid state issued ID to patronize the beer garden. Patrons must have their ID checked and have a wristband to legally drink in the beer garden. Seating in the beer garden is first come first served and alcohol must not leave the beer garden area. Plan ahead for a designated driver.
Artisans/Crafters: TBA
What to bring: Attendees are strongly encouraged to bring chairs and blankets. Wagons and coolers are also welcome.
We encourage you to patronize the on-site eateries, but you may also bring your own snacks.
No glass containers or outside alcohol are permitted at the Carroll County Farm Museum.
All coolers are subject to inspection prior to entry.
Pets: Please leave pets at home. Pets are NOT allowed on the grounds nor can they be left in vehicles during the event.
Where to park: Parking is available on site.
Those who need handicapped parking and those who wish to enter through the museum's Main Gate on Farm Museum Road, please park in the Museum lots at 500 S. Center St., Westminster, MD 21157. A large handicapped parking area is offered on the Museum lot on a first come, first served basis.
Please note, if the museum parking lots reach capacity, they will be closed and all traffic diverted to the Carroll County Agriculture Center lot, adjacent to the back of the museum. We suggest coming early if you wish to park on the Museum grounds and enter through the Main Gate. The majority of parking is field/grass parking.
ATM: Yes, there is an ATM on site.
For Veteran-related inquiries, call 410-386-3800.
For venue-related inquiries, call 800-654-4645.
*subject to change without notice*
**Must be 21 or over to purchase & consume alcoholic beverages**