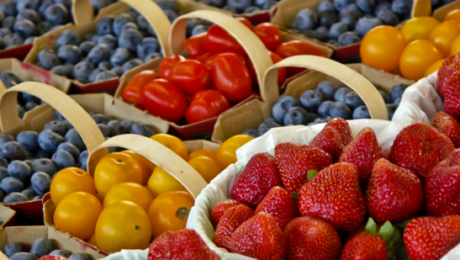 Download the 2017 Carroll County Farmers Markets brochure
Carroll County Farmers Market
www.carrollcountyfarmersmarket.com
Agriculture Center
700 Agriculture Center Drive
Westminster, MD 21157
410-848-7748
Fresh produce in season, eggs, baked goods, homemade candy, honey, jams, jellies, meats, emu products, gourmet foods, cut flowers, perennials, hanging baskets and crafts.
Breakfast and lunch available.
WIC, FMNP and SFMNP vouchers accepted.

Spring Markets: Saturdays 8 am to 2 pm.
April 15 – Spring Fling
May 13 – Mother's Day Show
Summer Markets: Saturdays 8 am to 1 pm.
June 10 – Opening Day
June 17 – Anniversary Day
June 24 – Early Summer – (early fresh fruits and produce) Quilt making day.
July 1  –  Holiday Weekend
July 8 – Christmas in July
July 15 – Home Party Day
July 22 –  The Best of  Summer
July 29 – Fair Week – (market is outside on lower parking lot)
Aug. 5 – Fair Week – (market is outside on lower parking lot)
Aug. 12 – Peach Festival – (featuring free peach treats, peach ice cream, sundaes, cobblers, pies and cakes for purchase, and The General Store Band).  Open til 2:00 pm
Aug. 19 – Heirloom Tomato Festival, hosted by Master Gardeners (tomato tastings, seed exchanges, and recipes)
Aug. 26  – Back to School Day & Big Basket Giveaway
Sept. 2 – Harvest Day – (last day of summer market, let us help you with your Labor Day picnics)
Fall Market: Saturday 8 am to 2 pm.
Oct. 7 – Celebrate Fall
Christmas Markets: Saturdays 8 am to 2 pm.
November 4 – Author's Day – (come meet local authors for book signing and sales)
November 11 – Art Guild Show and Sale – (featuring local artists and their works of art)
November 18 – Open House – (free vendor coupon drawing with free punch and cake)
December 2 – Santa will visit
December 9 – Greens Sale
December 16 –  Greens Sale & Last Market of the Season
Music provided by On Common Ground Musicians
---
Carroll Hospital Center Farmers Market
200 Memorial Ave., Westminster
Hospital parking garage, 3rd level
Westminster, MD 21157
Open Thursdays 12:30 – 4:30 pm, June 15 – September 24
Offering fruits, vegetables, fresh cut flowers, homemade baked goods, eggs and more.
WIC and FMNP vouchers accepted.
---
Hampstead Farmers Market
www.hampsteadfarmersmarket.com/
Hampstead Fire Dept. Grounds
1341 North Main Street
Hampstead, MD 21074
443-829-1339
Open Saturdays 8:30 am to 1 pm, June 3 – September 30
Locally grown fruits and vegetables including organic produce, eggs, meats, flowers, baked goods, wine, crafts and more. Breakfast available.
WIC and SFMNP vouchers accepted.
---
Mount Airy Main Street Farmers Market
www.mountairymainstreetfarmersmarket.org
3 North Main Street
Mt. Airy, MD 21771
301-829-1983
Open Wednesdays 3:00 pm to 7:00 pm, May 17 – September 27
Fresh produce, herbs, flowers and plants, baked goods and breads, eggs, soap and more.
WIC vouchers accepted.

---
Sykesville Farmers Market
www.sykesvillemainstreet.com
Sandosky Dr. & Town House Dr. (E.W. Becks Parking lot)
Sykesville, MD 21784
Open Sundays 9:00 am – 1:00 pm, May 14 – October 29
Fresh produce, meats, eggs, cheese, herbs, honey, nuts, pickles, baked goods, crafts, jewelry and more.
Live music most weekends.
---
Taneytown Farmers Market
www.taneytown.org
120 E. Baltimore St. (Behind Police Dept.)
Taneytown, MD 21787
443-244-7356
Open Saturdays 9 am – Noon, May 27 – September 9
Local produce, eggs, cheese, vegetables, herbs and flowers.
CCFS vouchers accepted.

---
Downtown Westminster Farmers Market
Conaway Parking Lot at Railroad Ave. (Rt.27)
and Emerald Hill Lane
Westminster, MD 21157
410-848-5294
Open Saturdays 8am – Noon, May 20 – November 18
Locally grown, producer-only market with fruits and vegetables, plants and herbs, sweets,
meats, eggs, pickles, flowers, wool, sheep & cows milk, cheese, soaps, pastries, takeaway soups
and sandwiches and more. Live music, cooking demos and fitness classes offered on select Saturdays.
WIC, FMNP and SFMNP vouchers accepted.
---
WIC = Women, Infants and Children Program
SFMNP = Senior Farmers' Market Nutrition Program
SNAP = Supplemental Nutrition Assistance Program
CCFS = Carroll County Food Sunday